Red Interior Lighting
I have now three different lighting effects for the foot boxes:
First: were red gels placed over the lights in the foot boxes for when the doors are opened.
Second: were small red lights that when the head lights are turned on a dim red glow aluminates the foot box. It looks very stock and does not distract the driver and is very cheap.
Third: two 10" neon tubes (later also 2 6" tubes in the back foot area) were installed with a switch in the cigarette tray. Detailed instructions available in a word file located on the bottom of the page.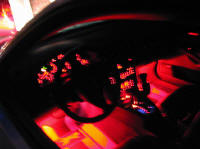 The pic is somewhat blurred due to the flash that went off.
New pictures of the lighting effects will be updated soon.
Instructions on doing the neons
Instructions on the Second lighting project